Kink
Recommended restraints for BDSM play
If you're controlling your man's orgasms then preventing him from touching himself when his chastity device is removed can be very important.  It can also be a huge turn on for him to feel helpless while you tease and edge him. Here are a few suggestions for some restraints that I've got to know intimately and would wholeheartedly recommend to others.
First of all you need to know that I'm a struggler—if I'm put in restraints then I'm going to test their limits and try to escape. I'm not devious, it's just that I like the feeling of very strict and secure bondage so I need to know I can't escape. Anything that is used to bind my limbs needs to be strong and secure, otherwise it's useless.
Police-style Steel Handcuffs
This type of restraint is very strict by design—caution needs to be used because soft-tissue damage can occur if the bracelets are too tightly applied or allowed to close tightly in use. Handcuffs are not designed to be comfortable in use but do give the dominant a very quick way to restrain their partner's hands. I get restrained in two different sets of handcuffs and enjoy the different ways they feel.
Hiatts Speedcuffs

We have been using these cuffs for several years—they're the same ones as the UK police force use and are very strict restraints indeed. When applied with the hands back to back and with the locks pointing towards the body, it's almost impossible for the restrained person to escape even with the key. Because they're rigid cuffs, the customary way to apply them is with one arm above the other in a 'stacked' configuration; this reduces the risk of damage to the restrained subject. It's also advisable to use the double locking function—not for security but to prevent the shackles from tightening.
When put in these cuffs, the subject feels very securely restrained and the cuffs themselves feel pleasingly heavy when on. The fact that they're rigid prevents a lot of arm movement which feels very restrictive and the non-rounded edges of the shackles remind you that you're wearing serious restraints—I've worn quite a few different sets of handcuffs and these are my favourite for the secure feeling they give.
Smith and Wesson Model 1 Hinged Cuffs

Hinged cuffs give the wearer a bit more movement and can afford a little more comfort whilst not compromising on security. These cuffs are also very strict restraints and the bigger shackle size means that they can fit a bigger variety of wrist sizes. These Model One cuffs also feel nice and heavy when put on.
The problem with steel handcuffs is that when I'm cuffed with my hands behind (there's no point cuffing a chase male to the front if you're trying to prevent him access to his penis), it can be very uncomfortable to be made to lie on my back. The cuffs dig into my wrists and back which is also potentially harmful. Luckily, there is the perfect restraint available for keeping control of a chaste male's arms and it's available from the recently re-opened Sub-Shop.
Leather Restraints

Who doesn't like the combination of security, strictness, comfort and safety that leather restraints offer?  I love pulling against a leather restraint and feeling that there's no give at all and no chance of escape.
Subshops's Behind the Back Obedience Trainer

Here it is being modelled by the beautiful Autumn:
This restraint is absolutely perfect to use with Male Chastity because it comfortably and securely keeps his arms where you need them to be while you edge him and deny him orgasm for as long as you want. If you're running a strict regime which requires his hands to be secured when his chastity belt is off then this is a must-have restraint. The only thing that you may want to consider is that his hands aren't completely restrained and he could possibly struggle free. The next recommendation takes care of that:
Top to Bottom Leathers Padded Fist Mitts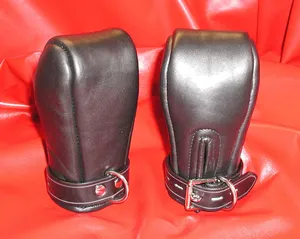 I am a huge fan of Top To Bottom Leathers and their products. We have quite a few of their restraints and they are of the highest quality, no amount of struggling is going to break them. The optional locking buckles are a very nice touch. These fist mitts are made to size and once buckled on and locked, there is very little opportunity to escape.  Actually I'd go as far as to say that once these are on me and the mitts are linked behind they're inescapable under supervised conditions.
---
This article and all associated images in the article have been republished with permission from John.
Please visit John's website to view the original post and more of his articles.
---
Feature image courtesy of Shutterstock
Have an amazing experience or tips you like to share
on SimplySxy?
Drop us an email at editorial@SimplySxy.com!